Palladium Books® Special Update – December 19, 2016
By Kevin Siembieda
It is not too late to get a Christmas Surprise Package in time for Christmas!
Reminder, if you live east of the Mississippi River, most of you can get your Surprise Package in time for Christmas via UPS Ground provided you order tonight or first thing in the morning. Note: All orders received tonight up until 10:30 A.M. Tuesday morning will ship Tuesday afternoon!
West of the Mississippi, you need to ship via UPS 2nd Day Air to guarantee delivery in time for Christmas. UPS 3-Day Select might make it, but there is no guarantee.
Only Next Day Air packages can be ordered as late as December 22 and still arrive by Christmas, but the cost is crazy.
If you do not need it in time for Christmas – order while you are thinking about it. You can still order a Christmas Surprise Package now, and get it AFTER Christmas, especially if it is for yourself. (And between you and me, it is tradition for Kevin to extend the Surprise Package offer for a couple weeks after Christmas.)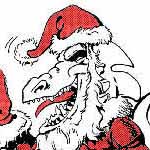 What is a Palladium Christmas Surprise Package?
$90-$95 worth of Palladium RPG books (often $100 or more!) for only $45 plus shipping and handling.
And if you want the books signed, Kevin Siembieda and available Palladium staff and freelancers are happy to sign EACH and every one of them. It is all our way of saying thank you to all of you for your support and kindness. Our goal is to put smiles on the faces of gamers around the world.
The perfect gamer gift for the holidays as well as upcoming birthdays, anniversaries, or filling in holes in your collection and trying new game settings. Have you been eyeballing Rifts® or Robotech®, or Dead Reign®, Palladium Fantasy®, Heroes Unlimited™, Splicers®, Nightbane®, Beyond the Supernatural™, After the Bomb®, or one of the other world settings? Well, this is the time to give it a try.
Surprise Packages make great holiday gifts for the gamers in your life – Whether you celebrate Christmas, Hanukkah, Kwanzaa, or the Winter Solstice, or you're looking for a gift for a birthday, anniversary, Valentine's Day, or any special occasion that falls between now and February, a Surprise Package is the ideal way to go for gamers. You get a ton of stuff on the cheap, you can get a bunch of autographs, and you look like you spent a fortune.
Fill holes in your own collection.
Try new game settings and receive cool stuff.
Get autographs from the Palladium crew and available freelancers.
Be surprised when the package arrives.
All items selected and comments read by Santa Kevin, himself. Ho, ho, ho!
The best deal of the holidays! You are likely to pay $40 for just a single core rule book, but for $45 plus shipping, you can get 4-6 books in a Surprise Package, depending on their retail value. Or you can get that core rule book and 2-4 sourcebooks. And we will sign the books if you request it. How do you beat that? It is the best deal in gaming! Our way of giving back to the fans and making the holidays special for you.
A long Wish List avoids delays. The Palladium Surprise Packages are designed to simulate the fun, joy and surprise of the Christmas Season of Giving. To do this, you submit a "Wish List" of 10-15 Palladium products (or more) FOR EACH Surprise Package you order. This list of 10-15 items for EACH Grab Bag is critical, because you will not know which items you'll be getting. That makes it just like a Christmas gift because it is a surprise! Plus, Santa Kevin, who personally hand-picks every item for every Grab Bag, may toss in something extra like a limited edition print or T-shirt, or issue of The Rifter®, or something else he thinks you'll enjoy.
Click here for more details and to place your order.
Happy Holidays from all of us at Palladium Books
© Copyright 2016 Palladium Books Inc. All rights reserved.
Rifts®, The Rifter®, RECON®, Splicers®, Powers Unlimited®, Palladium Books®, The Palladium Fantasy Role-Playing Game®, Phase World®, Nightbane®, Megaverse®, The Mechanoids®, The Mechanoid Invasion®, Coalition Wars®, Chaos Earth®, Dead Reign®, and After the Bomb® are Registered Trademarks of Palladium Books Inc. RPG Tactics™, Beyond the Supernatural, Coalition States, Heroes Unlimited, Ninjas & Superspies, Minion War, Mysteries of Magic, SAMAS, Thundercloud Galaxy, Three Galaxies, Vampire Kingdoms, and other published book titles, names, slogans and likenesses are trademarks of Palladium Books Inc., and Kevin Siembieda.
Robotech® and Robotech® The Shadow Chronicles® are Registered Trademarks of Harmony Gold USA, Inc.
This press release may be reprinted, reposted, linked and shared for the sole purpose of advertising, promotion and sales solicitation.