Palladium Books® Weekly Update – Dec. 23, 2015
By Kevin Siembieda
Happy Holidays to all of you. It's Christmas Eve tomorrow and Christmas the next day, Kwanzaa Saturday, so no sales pitch or news update other than, as has become part of the Grab Bag tradition, we are extending the Christmas Surprise Package offer for a few weeks after Christmas.
Christmas Surprise Package Offer – EXTENDED to January 15, 2016
Why extend this amazing offer? Because it's the nice thing to do. We realize many of you are so full of the Christmas Spirit that you spend your money on gifts for your loved ones rather than yourself. This wonderful act of charity often leaves no money for you to buy a Palladium Surprise Package for yourself. We think that sacrifice is pretty awesome and what the holiday season is all about, so we extend the offer so that you selfless souls can pick up a Surprise Package after the holidays. We know this happens, because a lot people over the years have thanked us for the extension for this very reason.
The extension is also for you Johnny Come-Latelies who are so caught up in the holiday frenzy, work and life that somehow you miss placing your order for the Christmas Surprise Package before the offer ends. It's also for those of you who wish you had ordered one (or another one) but forgot. Lastly, it is our way to carry that holiday good cheer into the New Year. So get your post-holiday Surprise Package and enjoy. Please note that this offer will not be extended further. This is your last chance. Happy Holidays.
Click here to see the entire Surprise Package description.
UPDATE: We've been shipping like madmen
With Christmas just days away, orders have been pouring in, and we love it. If there is a down side, it's that picking, pulling, packing and shipping orders is about all we've done the past week and a half! We've tried to ship them all out as quickly as possible to give everyone their best shot at getting them in time for Christmas. Only a half dozen that requested a sketch, presented a vague Wish List, or had special considerations, did not ship immediately. That includes the gent who ordered 15 Surprise Packages. Whew! I love playing Santa and the Palladium crew all enjoy knowing we are putting smiles on the faces of gamers worldwide.
The Palladium Office Party
Last Friday was the Palladium office party. I felt bad because we had put in a very long day shipping out The Rifter® #71 & 72 Double Issue, which people are loving, so it was worth the effort to ship to our subscribers that day. We were all dragging by 7:00 PM, yet somehow being among our friends rejuvenated us all and the party was nothing short of wonderful. Lots of laughs, hugs and fun till about midnight. It is truly a blessing to work with these amazing people and an honor to call them my friends. Each one special in their own way. I wrote a Murmur about it early this week, but I'm still smiling about that frenzied day of shipping (talk about teamwork), followed by a joyful evening of delicious food, drink, friends and love. Times like that warm my heart.
Merry Christmas and Happy Holidays to you all
Wishing you a joyful and merry Christmas, from all of us at Palladium Books to all of you. Know that you matter and are appreciated. May the holidays be full of joy, laughter and games. And remember, if you missed getting the Palladium Christmas Surprise Package, you still can for the next few weeks. Game on! Ho, ho, ho.
– Kevin Siembieda, Game Designer, Writer, Publisher
Surprise Package comments from fans like you
Every year there is a section where the customer can offer comments and suggestions with his or her Surprise Package order. Every year, in acknowledgment of our fans, and because they are fun to read, we offer a sampling in the Weekly Updates. Our heartfelt thanks to all of you who have stuck with Palladium through thick and thin. Keep those imaginations burning bright, have a joyous holiday season and game on.
You have no idea how much your comments and support mean to all of us. Everyone at Palladium enjoys reading your brief comments. They always brighten our day. Thank you. Since I haven't been posting as much as I'd like, I have tried to write a short response [in brackets] when applicable.
J.C. in Broomfield, Colorado, writes (in part): WOW. Just received my first 3 Surprise Packages even after 25+ years as a player and fan. You are amazing. Extremely special. Fully appreciated. You exceeded my hopes by a huge margin. Thank you everyone. My Palladium library thanks you too. Splicers® looks awesome by the way! Thanks for including it. You guys truly blew my mind... 25 years plus [as a Palladium player] and you guys made my first experience with the X-Mas Surprise Package a completely personal one. Thanks again.
[That's the idea behind the Surprise Packages, J.C., to blow people's minds, make them smile and feel special. I think we succeed more often than not, which I'm sure is why you ordered several more. Enjoy. Merry Christmas and Happy New Year. – KS]
K.D. in Kent, Washington, writes (in part): I buy this every year for my son. He loves the Grab Bag and it isn't Christmas without it. The Grab Bag is a perfect time for things he wants ...
[I'm glad the Surprise Package helps, K.D. It has become a Christmas tradition for a lot of people, which I think is wonderful. Happy Holidays. – KS]
B.M. in Broken Arrow, Oklahoma, writes: This will be the fourth year I get the Surprise Package as it is now part of my Christmas tradition. My favorite part is the total surprise and personalization that each pack gets, but my Number One favorite thing is the comment left by Kevin in my copy of Rifts® Africa that said, "Don't kill your players too quickly!" I thought it was great. My players? Not so much. lol
[Hey B.M., I'm glad the Surprise Package has become a holiday tradition and that you and your players are still enjoying our games. Keep that imagination burning bright. – KS]
N.M. in Colorado Springs, Colorado, writes: Recently swapped over to the Palladium rules system because I got tired of the edition wars of other systems. Your products speak for themselves by never needing a revision to the rules. I am now trying to expand my Rifts® collection and eventually plan to branch out into you other games.
[Thank you, N.M. I don't know if everyone would agree with your assessment, but we certainly appreciate it. Game on and enjoy exploring the Palladium Megaverse®. – KS]
J.Z. in Chesapeake, Virginia, writes: Thanks for your hard work and dedication to the RPG fans. I firmly believe Palladium's decades of work pushed the envelope and forced other games to evolve their content. Still, nobody comes close! I am not picky, and the Surprise Package is more the novelty of Santa Kevin and the gang. Although it never fails that I am wowed come Christmas!
[You wowed us, J.Z., with your kind words. Thank you. All our fans are important to us and the Christmas Surprise Packages are designed to wow them and make Christmas a little more cheery. Glad to know they do. Merry Christmas. – KS]
H.S. in Pioneer, California, writes: I started playing Palladium RPGs when I was 13 years old and still have most of my original books. And now 28 years later, my sons play and love it. Thanks for making such a fun role-playing game!
[You are very welcome, H.S. I'm glad two generations are loving our game worlds. Awesome. – KS]
J.H. in Long Beach, California, writes: I just want to say thanks for the many hours of enjoyment I have received because of your products. I have been a fan of Palladium Books since 1993, and I'm continually amazed at the staggering volume of creative content that KS and the team are able to produce. I want to wish you all a merry Christmas and best wishes for 2016!
[Ah shucks, J.H., thank you for the kind words. We always seek the wow factor and try to push the envelope. It helps that I have an overactive imagination and everything gives me ideas. Glad you enjoy the Grab Bags every year. We have a lot of great material planned for 2016. – KS]
G.S. in Puyallup, Washington, writes: Been a fan since 1988 when I picked up the original Robotech® sourcebook — love your game and art work. Glad you guys are still around. Rifts® is amazing and what you have done with Robotech® is deliciously good. Keep it up.
[We will, G.S. Thrilled you are still diggin' our games after all these years. We've got some great stuff in store for the future. – KS]
D.W. in Rush, New York, writes: Thanks for all the great products. Keep on truckin'.
[We will, D.W. Thanks for truckin' along with us. – KS]
S.C. in Colton, California, writes: Great game system, been playing Rifts® for over 20 years.
[Thanks, S.C., I hope you'll be playing for 20 more. I have ideas to last 40 years. Game on! – KS]
J.W. in Verona, Wisconsin, writes: Really excited about the Atlantean sourcebook. Keep up the fantastic work.
[We're excited about Secrets of the Atlanteans too. You're gonna love it. – KS]
V.S. in Edmonton, Alberta, Canada, writes: This (Surprise Package) is a Christmas gift for my husband who loves to game as much as possible. He already has a lot of the source books. lol. Thank you and happy holidays!
[I'm sure he'll enjoy this Grab Bag, as I packed it with a bunch of the items on his wish list. Thanks for putting up with us crazy gamers and happy holidays to you too. – KS]
C.B. in North Babylon, New York, writes: Looking forward to expanding my library. :)
[Well C.B., the Grab Bag offer is a great way to do that. Enjoy. – KS.]
J.H. in Carbondale, Illinois, writes: I love playing Rifts®. I am trying to get more books so I can be a better G.M.
[Hey J.H., don't be afraid to take chances and let your imagination carry you to new adventures. When you G.M., listen to your players' comments, make sure there are consequences for their actions (good and bad), be flexible and improvise, and most of all, have fun. If you and your players are having a good time, then you are doing just fine. Keep that imagination burning bright. – KS]
D.G. in Grand Forks, North Dakota, writes: Thank you for all your hard work. I love your books.
[Glad you and so many other people love our books, D.G., we sure love writing them. Lots of good stuff in the pipeline for next year. – KS]
J.J. in Wayne, Michigan, writes: It's always fun to order the yearly Christmas Grab Bag. I loved the Bizantium book and looking forward to seeing more Palladium Fantasy books in the future. Merry Christmas to everyone at Palladium!
[Merry Christmas to you, J.J. Hey, Palladium is right in Westland, so consider dropping by one day. By the way, we have three Palladium Fantasy books in the works right now. – KS]
Surviving Depression, especially at Christmas time
The holiday season is a time of joy for most people, but for some it is a time of spiraling darkness that threatens to consume everything.
I'm writing this for you: The people lost to depression. Please don't give up. I have had my own struggles with depression. I was able to find my way out, but I know many people – dear people – still engulfed by depression. A few seem lost in it and I worry for them. Others fight a difficult and debilitating ongoing battle with it.
Part of the problem is our loved ones don't understand depression or they are scared by it – or more to the point, seeing their loved ones change before their eyes. Fading away into the shadows and silence.
I think the average person thinks of depression as feeling sad and down, or angry. I mean, we've all felt depressed, right? We know what that feels like. Except that's not "clinical depression." For one thing, you don't snap out it after a few hours or a bad day or two.
Depression is more like despair. I've heard depression described as being paralyzed, but that is not really accurate. You feel numb and disconnected. You have a sense of what's going on around you. You know you should be doing something, but you are helpless to do anything about it. You can't deal with it. You are there as a spectator to your own, slow motion 100 car pile-up that you cannot seem to avoid. So you do nothing, because you can't do anything else. And that makes you more angry and sad. More despondent and overwhelmed. It is as if someone has stolen your joy. The spark that motivates you and makes life worth living.
Before long, you lose yourself inside your despair and problems – you shut yourself off to the world around you and the people you love. You don't call. You don't visit. They think it is because you don't care, when it's really you care too much. You feel worthless and you don't want to burden them. Besides, you don't know what help is available exactly, or what to do. And when you sink farther into the darkness, or a loved one tries to help, you get angry at them. You may snap at them, call them names, yell, or just snarl or moan and say, "I'm fine. Please, leave me alone." Or "I can't deal with this right now." Before crawling back into some corner where you just want to be left alone.
Isolation is bad. Don't close yourself off. Try to talk to someone. Anyone who cares. They love you. They need you. Try to find your joy. Anything that brings you joy. (NOT drugs or booze! That's not joy.) And do NOT think this is the end. Don't you dare give up. Seek help. You may need professional help. It is very, very difficult to snap yourself out of depression and come to functioning terms with it. In many cases, it's impossible without professional help – especially if your depression is the result of a chemical imbalance inside of you or emotional trauma.
Please do not be ashamed of needing help. If you had the flu or broke your arm, you would see a doctor. THIS IS NO DIFFERENT. Even today there remains a stigma about seeing a therapist and/or psychiatrist. The first talks and helps you come to understand what you are going through and ways to deal with it. The second is a medical doctor who prescribes medication. Don't make excuses for not getting help, that's the depression tightening its grip on you. Fight it. No, money is not an excuse either. Find a free clinic, talk to a friend, a family member, a priest, your flippin' family doctor, anyone who can help you – who can toss you that life line. Do it. And if you are feeling suicidal, call the free programs. Call a loved one. Life is precious. YOU are precious. Help is there.
Tens of millions of people (probably more) suffer from mental illness. Oh, there is that ugly, ugly, word, "mental illness." You may be thinking, "I don't want mental illness." Well, you don't want cancer either, but if you had it, you would go to the doctor, get treatment and fight like the dickens to beat it. This is no different. If the word is too horrible and embarrassing, call it something else, something with less of a stigma, but please get help for it.
Maybe this will help you: I, Kevin Siembieda, have seen a therapist off and on for years; Rob Justice, a great guy. We even became friends. He helped me beyond measure to get through some very difficult times: My divorce, the Crisis of Treachery and other things. Before that, my son, Adam, was diagnosed with Attention Deficit Disorder and we saw a family counselor who helped. Erick Wujcik battled manic depression his entire life. His periods of depression, usually lasting 2-3 years at a time, were terrible for him, but he fought through it. Never gave up. Found what gave him joy and kept him going. Erick is the one who introduced me to Rob. Palladium editor, Alex Marciniszyn, has managed his anxiety and depression for more than 30 years now. You can too. Trust me. Trust us on this, you can make your life better.
The hustle and bustle of Christmas, the stress of family, the joy all around you that is somehow eluding YOU, can push you into despair and suicidal thoughts. Please, don't. Please, seek help. Please, turn to the people who love you, as well as seek professional guidance. People care. I care or I wouldn't be putting myself out there and writing this. You are not alone. Things can get better. It might not be easy, but it is worth the fight. You don't need to be strong. You don't need to hide your secret depression (just the opposite), but you do need to fight it and find help. To find joy again.
Hang in there and may the holidays bring you joy and hope and love. Merry Christmas and a better New Year.
– With Love and Concern, Kevin Siembieda
The Rifter® Number 71 & 72 – shipping now!
Now shipping! The 224 page Double Issue of The Rifter® #71 & #72 is packed with source material from across the Megaverse®. There are adventure settings, monsters of Japan, ninjas, superspies, the Town of Semjaw, the floating haven called the Pearl, Game Master tips, a short story that is a prelude to The Disavowed, and plenty of adventure and adventure ideas, plus news and coming attractions.
Every issue of The Rifter® is an idea factory for players and Game Masters to generate new ideas, and find new avenues of adventure. It provides useful, ready to go, source material you can just drop into your ongoing games. A doorway to new possibilities and numerous Palladium role-playing worlds.
The Rifter® Number 71-72 Double Issue includes:
Splicers® – I Am Legion™ – "official" adventure and source material by Chris Kluge and Charles Walton II. A sprawling adventure with epic consequences, new threats, mad schemes and more. Art by Walton.
Beyond the Supernatural™ but also suitable for Rifts®, Ninjas & Superspies/HU2, and other settings – Yokai of Japan by Shawn Merrow and Siembieda – 10 monsters inspired by Japanese myth. Some really fun monsters to spice up any campaign. Art by Mike Mumah. 'Nuff said.
Rifts® – The Town of Semjaw™ by Brett Caron. A community sitting on the bones of pre-Rifts ruins. And the building blocks of an adventure setting.
Dead Reign® – Adventure setting & ideas by Eric Sturm. A floating safe haven and source of adventure to get your own ideas going.
Ninjas & Superspies™ – "Official" adventure by Paul Herbert. A complete adventure of espionage and martial arts, with non-player characters galore.
Rifts® – Reaper Cell™ short story by Dan Frederick. A sort of prelude to the upcoming Rifts® sourcebook, The Disavowed.
All game settings – "Official" G.M. tips on taking advantage of the Palladium Megaverse, by Kevin Siembieda.
All game settings – "Official" G.M. tips on Adventuring in the Megaverse® by Julius Rosenstein. How to bring multi-genre characters and blend powers and gear from several diverse game worlds into a single setting. Conversion tips and more.
All game settings – "Official" G.M. tips on improving adventures and storytelling for role-playing games by Glen Evans and Siembieda. Personal experiences, observations, tips and suggestions on how to improvise entire adventures.
News, coming attractions, product descriptions and more.
224 pages of fun and adventure in the Palladium Megaverse® – $24.95 retail – Cat. No. 171-172. Available now!
BACK IN PRINT: Reminder 9 titles back in stock – available now
A number of book titles had recently slipped temporarily out of print, and a few, like Rifts® Adventure Sourcebook One: Chi-Town 'Burbs: Forbidden Knowledge™, have been out of print for more than a year. Well, they are all back in stock and available now. And because you demanded it, the original Island at the Edge of the World™, Palladium Fantasy RPG® sourcebook is being brought back as a special, short-run printing. Island uses the first edition rules for Palladium Fantasy, but is very easily adapted to the current rules.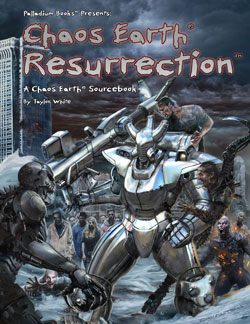 Rifts® Chaos Earth® Resurrection™ – available now!
The Golden Age of Science and human civilization is shattered with the return of magic and the Coming of the Rifts. Overnight, human civilization is toppled. Many major cities are wiped from the face of the Earth. Humanity struggles to survive against impossible odds and the demonic horrors, aliens and monsters emerging from the Rifts.
Now comes the first invasion from another world. Its army? The corpses of our own dead, deliberately reanimated to become an invasion force to conquer the living. A growing number are mechanized zombies – nightmarish creations with multiple body parts and armor and weapons bolted right onto their bodies. Unless stopped, they could wipe out all human life.
Do you hear the Transmission? If you do, it may drive you mad.
Chaos Zombies rise to slaughter the living.
12 different mechanized Scrap Zombies soon join their ranks.
Frankenstein amalgamations, Scrap Zombies are armored and weaponized in ways never before imagined. They stalk the ruins of civilization and battle power armored troops in a death match humanity must win.
Amped Zombies are fast and deadly.
Boogeymen lurk in the shadows to pick off the living one by one.
Brain Melters are dead Crazies who use their powers to hunt the living and locate them for the zombie hordes.
Garbagemen gather the dead, extra body parts and special components.
Headbanger are horrific and deadly with multiple heads and long-range weapons.
Living Dead Girls are the infiltrators who look normal but are zombie saboteurs and assassins.
Reapers, armored, fast and deadly.
Scorchers, walking time bombs.
Soldier Boys are the backbone of the Scrap Zombies.
Stitchers rebuild and repair the zombies in the field.
Toxic Vomitous spew acidic bile at the living.
Walking Nightmares, a freakish and monstrous amalgamation of body parts and weapons.
Chaos Zombies, what you might consider "normal" zombies that number into the tens of thousands. It is they who get cannibalized and remade into the weaponized Scrap Zombies.
Zombie Mistakes and Quirks Tables.
The Black Obelisk, a zombie factory, a mad man and dark magic.
More monsters and plagues from beyond the Rifts.
Bringing mechanized zombies to other game settings.
Suitable for use in Rifts®, Heroes Unlimited™ and other RPG worlds.
Written by Taylor White and Kevin Siembieda.
160 pages (increased size) – $20.95 retail (increased price) – Cat. No. 666 – Available now!
Palladium Christmas Surprise Packages start NOW!
Can you believe it? It's that time again for the Palladium Christmas Surprise Package! Palladium Books® has been doing Christmas Surprise Packages, or "Grab Bags," for 17 or 18 years. It enables you to get several RPG titles ($86-95 worth for ONLY $42 plus shipping and handling) as gifts or for yourself. It is our way to say thank you to our many fans for being so kind and patient, and for your years of support. You are appreciated more than you may realize.
Christmas Surprise Packages are not just for Christmas. Whether you celebrate Christmas, Hanukkah, Kwanzaa, or the Winter Solstice, or you're looking for a gift for a birthday, anniversary, graduation, or any special occasion that falls between now and February, a Surprise Package may be the ideal way to go. You get a ton of stuff on the cheap, you can get a bunch of autographs (if you want 'em), and you look like you spent a fortune.
This is also a great way to try that game setting you've wondered about (Splicers®, Dead Reign®, Chaos Earth®, Palladium Fantasy®, Nightbane®, etc.), or to get something for your favorite Game Master, or perhaps to get your player group to consider a new game or setting.
Your "Wish List" – The Palladium Surprise Packages are designed to simulate the fun, joy and surprise of the Christmas Season of Giving. To do this, you submit a list of 10-14 Palladium products (or more) FOR EACH Surprise Package you order. This list of 10-14 items for EACH Grab Bag is critical, because you will not know which items you'll be getting. That makes it just like a Christmas gift because it's a surprise! Plus, Santa Kevin, who personally hand-picks every item for every Grab Bag, may toss in something extra like a limited edition print or T-shirt, or issue of The Rifter®, or something else he thinks you'll enjoy.
Autographed books. For those of you who want them (which are most people), the available members of the Palladium staff, and any freelancers we can lasso at the time, are happy to autograph each and every book in your Surprise Package. This is the only way many fans, especially those in other countries, can EVER get signed books.
Send us your brief comments. There is a special form and format to fill out for Christmas Surprise Packages, including a place where you can offer your brief comments, suggestions, greetings and salutations.
It only costs $42 plus shipping to get $86-$95+ worth of Palladium products! First-timers are always nervous until they see the great value in their first Surprise Package. A typical Grab Bag has $86-$95 worth of product, sometimes more! Yes, sometimes more. Many people order 2-3. Some order 4-6, and some maniacs order even more! It makes sense, because it is a great way to fill holes in your own collection, treat yourself, get autographs, try new games and settings, and get your gaming pals gifts. SPREAD THE WORD about this great offer.
Click here to get the entire Surprise Package description.
Zombie Time!
Think you can survive the Zombie Apocalypse? Do you have a desire to kick some zombie butt? Then you want the Dead Reign® RPG – available from Palladium Books® or as PDFs from DriveThruRPG.com. There are currently six titles that are as much fun to read as they are to play. And more are coming.
Dead Reign® RPG – Core Rules – everything you need to know to play
Experience the nightmare of being stalked by the living dead. Who can you trust? Where can you go to be safe? How do you fight the dead? Find out in Dead Reign® – a complete role-playing game that captures the horror, suspense and trauma of the post-apocalyptic world dominated by zombie hordes. And the zombies? More than what you may expect. All of them deadly.
Rules are easy to learn.
Combat is fast, fun and intuitive.
The setting, brutal and unrelenting.
Characters represent the last of humanity.
Play ordinary people who must find a way to survive against impossible odds; 40 different occupations and notable skills for each.
Or play one of the more extraordinary survivors who battle zombies and try to rescue the living. They don't mean to be heroes, they just are.
They say there is no surviving a zombie bite. The Half-Living say otherwise. They are victims of a zombie attack, but instead of dying and turning, they come out of their coma more (or some would say, less) than human. The question is, might they turn at any time?
Slouchers are the slow moving zombies. They gather in large herds and kill all they encounter.
Flesh-Eating Zombies are fast and predatory. They hunt in packs, and stalk humans day and night.
Mock Zombies are twisted abominations: The dead who retain a large portion of their mind and identity, but cannot accept what they have become. Most are quite insane and insist they are not monsters. They claim to be alive, and only want to help their "fellow man." That last part might even be true, until the irresistible need to kill the living takes over.
Pattern Zombies are the dead that only kill when they come face to face with the living or are attacked first. Unlike the Slouchers and other zombies, they don't seek out human prey. Rather, they are locked in some pattern from their past life, endlessly reenacting their job at the factory, or a typical day at home mowing the lawn or watching the game on a TV that no longer receives broadcasts.
Thinkers are among the most dangerous: zombies that retain a level of cognitive thought and awareness. They can open a door or unlatch a gate, use a weapon such as a knife or axe, figure out ways to get inside strongholds and go around traps. Worst of all, other zombies follow them, and Thinkers often lead mobs of lesser zombies against the living.
More than 30 pages describing zombies, with all the hows and whys of their behavior and their need to kill the living. Seven different types of zombies (more appear in the Dark Places and Endless Dead sourcebooks).
Page after page of Zombie Apocalypse survival tips.
Six Apocalyptic Character Classes, with any number of Ordinary People as survivors fighting to keep humanity alive.
Death Cults and their leaders. Not all humans are allies.
Retro-Savages, survivors who blame the apocalypse on technology, and feed people who still use guns, cars and tech, to the dead.
Weapons, survival tips and how to fight the dead!
Vehicles, equipment and notable resources.
101 Random Scenarios/Encounters/Settings, adventure ideas and more.
The complete core rule book. And learn the rules of this RPG and you can play any Palladium RPG. You see, Palladium's games all use the same basic rules. Learn one, and you can play them all. More than that, you can bring your characters, weapons, powers and magic from one game setting to the next, creating a truly infinite Megaverse® of worlds and adventure.
Cover by E.M. Gist.
Art by Amy Ashbaugh, Nick Bradshaw, Mark Dudley and Mike Mumah.
Written by Kevin Siembieda, Josh Hilden and Joshua Sanford.
$22.95 – 224 page core rule book – Cat. No. 230. Available now from Palladium Books® and in game shops everywhere. Also available in PDF format from DriveThruRPG.com.
Dead Reign® Sourcebooks
– Expand the world, many more settings, adventure ideas, new zombies and danger
COMING – Rifts® Sourcebook – The Coalition States: Heroes of Humanity™
The events unfolding in World Book 35: Megaverse® in Flames threaten to change the entire landscape of Rifts® Earth as the demonic minions of Hades and Dyval seek to bring Hell on Earth, and turn the planet into a dimensional gateway to Armageddon!
The Coalition States, along with Northern Gun and Lazlo, take the lead in the defense of North America. Heroes of Humanity explores the good and bad in the Coalition's efforts to save humanity and send this new threat back to the pits of Hell.
New Coalition weapons, armor and war machines.
The Coalition States: Are they heroes or villains? Or does it depend on whether you are human or not?
Can the CS fight alongside mages and D-Bees if it means saving the world?
How is the CS dealing with the Minion War on Earth?
One plan to battle the Xiticix and who really pays the price.
Adventure ideas and more.
Written by Kevin Siembieda, Matthew Clements and other contributors.
Final page count and cost yet to be determined but probably 96 pages – $16.95 retail – Cat. No. 889.
COMING – Rifts® Secrets of the Coalition States: The Disavowed™
"Desperate times require desperate measures. War has nothing to do with morality or justice. It's all about winning or dying. We cannot bind our hands with high ideals, even our own, or worry about the laws of renegade nations or the rights of alien people. We must fight fire with fire. And you are the match." – Colonel Lyboc addressing a Disavowed team
The Disavowed are so Top Secret that their existence is known only to a handful of the Coalition States' most elite, top echelon, with Joseph Prosek II the mastermind behind the Disavowed operation, and Colonel Lyboc its shadowy face. Find out who these men and women are. How the Disavowed get away with using magic, traveling to other parts of Rifts Earth and even to other dimensions in pursuit of enemies and strategic information that cannot be had through conventional means. Learn about the secret parameters in which these hard-boiled warriors, secretly hand-picked by Joseph Prosek II, operate, why almost every mission is considered a suicide mission, and why they must forever be the Disavowed.
CS operatives so secret that even the top military and political leaders right up to Emperor Prosek know nothing about them. And if they did know, would they condone their activity or condemn it?
Are the Disavowed heroes or renegades? Assassins or soldiers? Madmen or super-patriots? Or a little of them all?
Unsung heroes who keep the CS safe, or thugs and pawns of a shadow agency within the Coalition government?
What role does the Vanguard play in this group?
How do they reward their D-Bee "teammates" when the mission is over?
What happens to the Disavowed when they have seen or learned too much? Adventure ideas galore and so much more.
Written by Kevin Siembieda and Matthew Clements.
Final page count and cost yet to be determined, but probably 96 pages – $16.95 retail – Cat. No. 892.
COMING – Rifts® Secrets of the Atlanteans™
True Atlanteans are descendants from Earth's past. The survivors of the sinking of Atlantis (really a dimensional mishap) and travelers of the Megaverse, wielders of Tattoo Magic and other lost mystic arts. Most people regard them as heroes, but are they? The Sunaj Assassins are mythic villains feared by all, yet they too are True Atlanteans who serve dark forces.
For the first time, much of the story behind True Atlanteans and their secrets are revealed.
True Atlanteans revisited.
Optional Atlantean character creation tables including clan heritage and other factors.
Secrets of the stone pyramids, different types/purposes and powers.
Many new magic tattoos, magic spells, weapons and armor.
Atlantean hideouts and secret communities across the Megaverse.
The Sunaj Assassins, their secrets, history and plans for the future.
Atlantean Monster Hunter O.C.C., Atlantean Defender O.C.C. and much more. And this is just the tip of what this book contains.
Written by Carl Gleba. Additional text and ideas by Kevin Siembieda.
Final page count and cost yet to be determined, but probably 160-192 pages – $20.95-24.95 retail – Cat. No. 890.
COMING – Rifts® Chaos Earth® Sourcebook: First Responders
The Great Cataclysm has devastated civilization, but humanity fights for survival. The struggles of civilian law enforcement, fire and rescue, and everyday men and women are some of the most epic tales to be told in a world gone to hell. They fight monsters, aliens, the paranormal, the elements, and each other, all with the hope of reclaiming their lives from the Chaos.
New D-Bees and monsters from the Rifts.
First Responder O.C.C.s, skills and special equipment.
New "average citizen" Occupational Character Classes (O.C.C.s).
New equipment for NEMA "Roscoes" and other emergency personnel.
Notable rescue vehicles, robot drones, and technology.
Source information and stats for common Golden Age technology (weapons, vehicles, medical tech, etc.).
Apocalypse Plagues brought from other worlds to Chaos Earth.
Adventure ideas and more.
Written by Jason Richards. Additional text by Clements & Siembieda.
96 pages – $16.95 retail – Cat. No. 665.
NEW! Robotech®: Expeditionary Force Marines™ Sourcebook – Available Now
Expeditionary Force Marines™ is ready to ship right now! It is a riveting Robotech® sourcebook that carries you to alien worlds. Your characters can pilot the early Cyclones and next generation of Destroids, liberate alien worlds and engage the merciless Invid Regent, his Inorganic shock troopers and Invid swarms. Epic, planet-hopping adventure awaits.
The Robotech®: Expeditionary Force Marines Sourcebook is set in space with the UEEF (United Earth Expeditionary Force) led by Admiral Rick Hunter, Lisa Hayes, Breetai and Exedore. This valiant force of mecha-clad heroes travel across the galaxy liberating planets from the bondage of the Invid Regent, the Robotech Masters and other tyrants and monsters. New alien people are introduced and become part of the Expeditionary Force Marines. In between their ongoing war with the Regent and his Invid and Inorganics, they explore planets, battle space pirates and face treachery on many fronts.
5 new Marine O.C.C.s, 22 M.O.S. skill packages, and some new skills.
8 new Destroids, two of them Zentraedi, plus a Battloid or two.
6 new Cyclones, including Space Cyclones, the Spider Hover Cyclone, the Walker and more.
CVR-1 and CVR-2 body armor and notable Expeditionary Force (and alien) weapons, gear and vehicles.
The Regent's war machine: Invid Scientist R.C.C., Invid Assault Trooper (new), Invid Fury (new), Invid Ogre (new), Invid Ranger (new), Garn Inorganic (new), the Regent statted out, and more.
6 alien races and brief overviews of their planets.
34 Perytonian Energy Wizard magic spells.
Quick Roll Creation Tables for UEEF Marines as player characters.
Time-line for the Expeditionary Force and related events on Earth.
The Robotech® The Shadow Chronicles® RPG "rule book" is needed to play (Cat. No. 550 or 550HC).
Art by Charles Walton, Mike Wilson, Apollo Okaumura, Allen & Brian Manning, Ben Rodriguez and Dan Dussault.
Written by Irvin Jackson and Kevin Siembieda.
160 pages – $20.95 retail – Cat. No. 553. Available now!
Robotech® RPG Tactics™
– Available now in the USA, Canada, European Union, Australia and New Zealand
If you love Robotech®, you'll want to take a look at this game. Beautifully detailed game pieces of your favorite Robotech® mecha, and fast playing rules that capture the Robotech® experience in a new, exciting way. And this is just the beginning. We have so much more planned. Available NOW – in game stores across the USA, Canada, UK, European Union, Australia and New Zealand.
Robotech® RPG Tactics™ "Starter Box" – Cat. No. 55100 – $99.95 retail price. This is the game Robotech® fans have wanted for decades. Robotech® RPG Tactics™ is a fast-paced, tabletop combat game that captures the action and adventure of the Robotech® anime. Two or more players can engage in small squad skirmishes or scale up to massive battles. Relive the clashes of the First Robotech War, engage in stand-alone tactical games, or use the dynamic game pieces to enhance your Robotech® RPG experience. Or simply collect your favorite mecha from an expanding range of top-notch game pieces.
The First Six Robotech® RPG Tactics™ Expansion Packs are available to retail along with the main box game. Here are the SKUs and retail prices.
NEW! Palladium Fantasy RPG® Sourcebook: Bizantium and the Northern Islands™ – Available now
To the civilized world, Bizantium and the waters and lands around it are frightening. A realm of sea serpents, monsters, and barbarians. To the heroes and people who live there, it is a realm of adventure, beauty and opportunity. One might consider Bizantium as the center of adventure and mystery in the North.
North of Bizantium are the Icy Ocean and Great Ice Shelf, places where only a handful of the bravest Bizantian sailors have ever set sail, and the rest of the world knows nothing about. For kingdoms in the south, only a few scholars have ever heard of the Great Ice Shelf or the cannibalistic Necromancers known as the Iceborn who make the frozen wasteland their home. Those who have heard tales of the land of ice and death are convinced they are nothing but the stuff of myth. Very soon, they will find out otherwise. And these are but a few of the revelations presented in Bizantium and the Northern Islands™. Discover for yourself the wonders and horrors that await.
Waterchanter O.C.C. and 20+ magic spells new to the Fantasy setting.
Necromancy revisited. Many spells new to the Fantasy setting.
90+ spells in all, including Ocean Magic for the Waterchanter, Necromancy and more.
Serpent Chaser, Bizantium Marine and other new character classes.
The Iceborn, their man-eating Raiders, Skinbinders and Sea Witches. A forgotten race of monsters who worship death, wield death magic, hunt humanoids, eat their flesh, and wear their skin. A villain you will love to hate.
The Iceborn's Necroilus – massive vessels made from the remains of dead sea serpents and animated by Necromancy to prowl the seas.
Vengeful gods, monsters, sea serpents and sea monster creation tables.
The Seven Treasures touched by the Northern Gods, lost for centuries, waiting to be found.
New and old Bizantium ships including the Bireme, Ice Breaker and Battleship.
Bizantium as never before seen.
The Northern Islands described in new detail.
The Great Ice Shelf – a new continent to explore.
Bizantium's origin, history, and mysteries revealed.
Bizantian society, culture, religion, magic and notable places.
People and places of note. Adventure hooks galore, and more.
Written by Glen Evans, Matthew Clements and Kevin Siembieda.
192 pages – $24.95 retail – Cat. No. 474 – Available now.
NEW! Rifts® Special Order Products – PRINT on Demand
The following items are something new, proposed by and created by Tags, a fan of Rifts® and Palladium Books. He did the design work and had the sample products that are shown here created by Victor Narvaez at NY Embroidery. We liked what these two gents created, so we are making them available to you as Special Orders.
Here's how Rifts® Special Order Products will work. In most cases, we have to order a limited quantity to make manufacturing and shipping cost effective (we can't make just one at a time, but can make a dozen at a time). That means when we have a sufficient number of "Special Orders" we can have them made in a week and shipped in another week or two. And with Autumn and Winter and the holidays coming up fast, this might be a good time to order things like Reporter Bags, Embroidered Hoodies, caps and Three-Season Jackets. Enjoy and think Christmas gifts. Please Note: Your credit card will not be charged until the Special Order is in actual manufacturing.
Rifts® Glitter Boy in Flames Jacket
A 3-Season Jacket – Winter, Fall and Spring – any Rifts® fan would be proud to wear.
Warm and comfy for Fall and Winter wearing. Personally, I think this jacket is too warm for Spring wear. The fleece lining is NOT removable.
On the front of this stylish jacket (I own one, myself) is the full Rifts® Logo in a gold color over the left breast.
On the back is a massive and detailed, 11x15 inch embroidered image of the fan favorite depiction of a Glitter Boy standing brave and bold amongst flames and destruction bearing the American Flag. We are told that this embroidery image has 400,000 stitches and takes 9 hours to embroider, and it is detailed and beautiful.
Art by Scott Johnson.
Water resistant.
Two zipper pockets.
EZEM System and easy care.
We've been told we are crazy to sell this jacket for anything less than $450, but . . . well, we are crazy, so you can order your embroidered Rifts® Jacket for only $275 plus shipping.
Cat. No. SPO-15801 – $275 retail for sizes Small to 2XL – $300 retail for 3XL to 5XL sizes. Please make sure you indicate the jacket's size.
Rifts® Glitter Boy in Flames "Zipper Hoodie"
A Gildan or Fruit of the Loom hoodie (depending on availability) suitable for Fall and Spring wear (or if you are Kathy Simmons, Winter too). This is the same design as the Rifts® jacket with the Rifts® logo on the front and the big, Glitter Boy in Flames image on the back for almost half the price as the jacket. Both Chuck Walton and Kathy Simmons have their Rifts® hoodie for the Fall. Shouldn't you?
Black zipper hoodie – Gildan or Fruit of the Loom depending on availability.
On the front of this hoodie is the Rifts® Logo in a gold color over the left breast.
On the back is a massive and detailed, 11x15 inch embroidered image of the fan favorite depiction of a Glitter Boy standing brave and bold amongst flames and destruction bearing the American Flag. We are told that this embroidery image has 400,000 stitches and takes 9 hours to embroider, and it is detailed and beautiful.
Art by Scott Johnson.
Two pockets and a hood.
Cat. No. SPO-15802 – $160 retail for sizes Small to 2XL – $180 retail for 3XL to 5XL sizes. Please make sure you indicate the hoodie's size.
Rifts® Baseball Cap – Black Cap, "Gold" Rifts® Logo
I (Kevin Siembieda) am not a baseball cap guy, but I love this cap and have been wearing mine on my morning walks. I like the comfortable fit and I do not seem to sweat as much wearing this cap compared to others I have tried. (The trail I take has me walking into the morning sun, so I need a cap.) I prefer the gold logo, but red was the hot seller at Gen Con.
The Rifts® Logo embroidered in gold.
100% cotton. One size fits all. North End brand.
Logo design by Kevin Long.
Cat. No. SPO-15803 – $19.95 retail.
Rifts® Baseball Cap – Black Cap, "Red" Rifts® Logo
The same style of cap with the words Rifts® with the swish through it. The embroidered "red" baseball cap was the favorite among consumers at Gen Con.
The Rifts® Logo embroidered in red.
100% cotton. One size fits all. North End brand.
Logo design by Kevin Long.
Cat. No. SPO-15804 – $19.95 retail.
Rifts® Logo Reporter's Bag (Clean Look)
This useful carrying bag has three large pockets for books being taken to your Rifts® gaming session, plus two smaller pouches for pens or dice sealed via hook and loop fasteners. The front flap is a dynamic, full Rifts® logo on a field of crackling blue energy from a ley line. Also suitable as a school/college book bag.
The full Rifts® Logo on a field of crackling blue energy.
Colorful and dynamic sublimation printing.
Sturdy design; 100% polyester.
Two large pockets for books, and a smaller third pocket that zippers shut.
Two small pouches.
Shoulder strap included.
Overall size – 15x11x3 inches.
Logo design by Kevin Long and Cathy Schutt.
Cat. No. SPO-15805 – $49.95 retail.
Rifts® Logo Extreme Reporter's Bag
This useful carrying bag has two large pockets for books being taken to your Rifts® gaming session, plus two smaller pouches for pens or dice sealed via hook and loop fasteners. The front flap is a dynamic, full, modified Rifts® logo on a field of crackling blue energy from a ley line. Also suitable as a school/college book bag.
The full Rifts® Logo on a field of crackling blue energy.
Colorful and dynamic sublimation printing.
Sturdy design; 100% polyester.
Two large pockets for books, and a smaller third pocket that zippers shut.
Two small pouches.
Shoulder strap included.
Overall size – 15x11x3 inches.
Logo design by Kevin Long and Cathy Schutt.
Cat. No. SPO-15806 – $49.95 retail.
PDF downloads from DriveThruRPG.com
This is a great resource for getting out of print Palladium titles and other select books. We've made 100 titles available as PDF digital downloads from DriveThruRPG.com, as well as Fantasy Paper Miniatures, Game Master resources and other good things with more to come. This is a great way to try Palladium products and get access to out of print RPG source material. Some notable titles include:
© Copyright 2015 Palladium Books Inc. All rights reserved.
Rifts®, The Rifter®, RECON®, Splicers®, Palladium Books®, The Palladium Fantasy Role-Playing Game®, Phase World®, Powers Unlimited®, Nightbane®, Megaverse®, The Mechanoids®, The Mechanoid Invasion®, Coalition Wars®, Dead Reign®, Chaos Earth®, and After the Bomb® are Registered Trademarks of Palladium Books Inc. RPG Tactics™, Beyond the Supernatural, Coalition States, Heroes Unlimited, Ninjas & Superspies, Minion War, Mysteries of Magic, SAMAS, Thundercloud Galaxy, Three Galaxies, Vampire Kingdoms, and other published book titles, names, slogans and likenesses are trademarks of Palladium Books Inc., and Kevin Siembieda.
Robotech® and Robotech® The Shadow Chronicles® are Registered Trademarks of Harmony Gold USA, Inc.
This press release may be reprinted, reposted, linked and shared for the sole purpose of advertising, promotion and sales solicitation.