By Kevin Siembieda
One game system – every genre – countless worlds – endless adventure
A lot is going on this week. The Rifts® Game Master Guide is back in stock. In fact, it arrived Tuesday, a few days early. Rifts® Northern Gun™ One is now available on DriveThruRPG as a PDF title. We are putting the final wraps on The Rifter® #82 so we can send it to the printer next week. Rifts® Bestiary Volume One will follow shortly thereafter. And Christmas Grab Bag/Surprise Package season starts this week. But first ...
Time is running out to get the October Horror Bundle of Holding featuring Palladium horror titles Beyond the Supernatural™, Dead Reign®, Nightbane®, and select sourcebooks. The Bundle of Holding offer is about half done. It has been going gangbusters and you don't want to miss out. As always, you save money and a portion of the proceeds goes to a worthy charity. More details below.
It's that time of year for the ultimate holiday offer anywhere, especially for gamers – the Palladium Christmas Surprise Package – and it starts today. For those of you new to this insane and beloved holiday tradition, you get $90-$100 worth of Palladium game product for $46 plus shipping, AND available staff, freelancers and I will sign all your books if you request it. For many people this is the only way to get autographs. See the longer description in this update for details, or go directly to the store description.
I know first-timers may be hesitant to try a sort of "Grab Bag" – but you will not be disappointed. Many regulars buy one or two X-Mas Surprise Packages every season. Some maniacs purchase 5 or 6! That's how good they are. And I personally try to make sure each and every one of them is special. They are pretty awesome. Get all the details below or from the store description and enjoy.
Only two weekends left! Palladium Horror Bundle of Holding – happening right now – ends October 29, 2018
http://bundleofholding.com/presents/PalladiumHorror
The Bundle of Holding people are offering PDFS of Palladium's horror RPGs and many sourcebooks as part of their October Horrors celebration! Snag PDFs of the Dead Reign® RPG, Nightbane® RPG and Beyond the Supernatural™ RPG, and select sourcebooks in the Palladium Horror Bundle Starter Collection and the Bonus Collection. Available now and perfect to add a little scare to your month of October. This bargain-priced bundle is your starting point for countless campaigns of mind-numbing terror.
How the Bundle of Holding Works: You can pay any price (minimum $9.95) to get all the titles in the Starter Collection. If you pay more than the threshold (average) price, which is $21.29 as we post this (but goes up as more people make purchases), you also get all the titles in the Bonus Collection.
Palladium Horror Starter Collection (US $9.95 – total value $44.96):
Beyond the Supernatural™ RPG, 2nd Edition (256 page core rule book).
Nightbane® RPG (240 page core rule book).
Dead Reign® RPG, the Zombie Apocalypse (224 page core rule book).
Dead Reign®: Civilization Gone™ (64 page sourcebook).
Total PDF retail value of $44.96, all for only $9.95!
BONUS Collection (total value $50.45): If you pay more than this offer's threshold (average) price ($21.29 as we post this, but the longer you wait, the higher it will go), you will level up and also get this offer's entire Bonus Collection.
Nightbane®: Between the Shadows™ (144 page sourcebook).
Nightbane®: Nightlands™ (144 page sourcebook).
Nightbane®: Through the Glass Darkly™ (152 page sourcebook).
Nightbane® Survival Guide™ (160 page sourcebook).
Dead Reign®: Dark Places™ (64 page sourcebook).
A total combined PDF retail value of $95.41, all for only $21.29!
Bargain price and charity support. Not only do you get to try something new or build your existing e-library at a bargain price, but 10% of every purchase goes toward charity! We chose to support the National Center for Missing and Exploited Children (www.missingkids.com) with this bundle. They provide desperately needed help and services to those in need of them.
If you have never played Dead Reign®, BTS™ or Nightbane®, the Essentials Bundle gives you plenty to get rolling. WARNING: Read a few of these books and you may get hooked on playing thrilling and suspenseful games filled with supernatural horror. Sale ENDS October 29, 2018.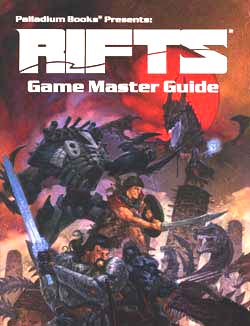 BACK IN STOCK – Rifts® Game Master Guide™ – Available now
I always forget how jam-packed with valuable reference stats and comprehensive info the Rifts® Game Master Guide™ really is, with every Rifts® robot, power armor, body armor, vehicle, weapon, gadget, skill, experience table, and map that has appeared in Rifts® World Books 1-23 and Sourcebooks 1-4, plus a bionics index, an O.C.C. and R.C.C. index, rules clarifications, combat examples, advice on how to run a game and more.
500+ weapons.
300+ skills.
290 pieces of equipment.
180+ vehicles.
100+ suits of body armor.
80+ suits of power armor.
352 pages – $28.99 retail – Cat. No. 845 – available now.
Other core Rifts® titles:
UPDATE: The Rifter® #82 – November release – in final production
The Rifter® #82 is personal. Within this 112 page sourcebook is a colorful, funny and touching memorial to Erick Wujcik, game designer, Game Master and friend. It is also packed with useful source material, magic, monsters, and heroes. All source material can be adapted to other world settings with some easy and obvious modifications. Unleash your imagination and use The Rifter® to fuel your own campaigns. In final production!
Erick Wujcik Remembered – 10 years after his death, friends and fans remember this unique individual and his work. Insight to the man and Palladium Books, the company he loved. Written by Kevin Siembieda and many, many others.
Rifts® Chaos Earth® – Pyromancy, Nebraska Part Three – by Daniel Frederick, Megan Timperley, Matthew Clements & Kevin Siembieda. The chaos of the Great Cataclysm is different around the globe. This source material examines the events and survivors of Nebraska, and the new Chaos Magic of Pyromancy and the Pyromancer who wields it. Plus Zone Twisters, and notable NPCs. Final Chapter. "Official" source material.
Rifts® Bestiary Sneak Preview – by Kevin Siembieda and Charles Walton II. A few choice new monsters. "Official" source material.
Nightbane® – Age Modifiers and Education rules – by Mark Oberle. "Official" source material.'Nuff said.
Gaming Advice from Erick Wujcik – Thinking Big and The Name Giver, sage advice reprinted from The Rifter® #1 & 2.
And, space permitting, Heroes Unlimited™ source material by Matt Reed.
News, coming attractions, product descriptions and more.
112 pages – $14.99 retail – Cat. No. 182. Ships November.
Palladium Christmas Surprise Packages start NOW!
Can you believe it? It's that time again for the Palladium Christmas Surprise Package offer. Palladium Books® has been doing Christmas Surprise Packages, or "Grab Bags," for 20 years! And what a great tradition it has become.
It enables you to get several RPG titles ($90-$100 worth) for ONLY $46 (plus shipping and handling) as gifts for others or for yourself. It is our way of saying thank you to our many fans for being so kind and patient, and for your years of support. You are appreciated more than you may realize.
Christmas Surprise Packages are not just for Christmas. Whether you celebrate Christmas, Hanukkah, Kwanzaa, or the Winter Solstice, or you're looking for that special gift for a birthday, anniversary, graduation, or any special occasion that falls between now and February, a Surprise Package may be the ideal way to go. You get a ton of stuff on the cheap, you can get a bunch of autographs (if you want 'em), and you look like you spent a fortune.
This is also a great way to try that game setting you've wondered about (Splicers®, Dead Reign®, Chaos Earth®, Palladium Fantasy®, Nightbane®, Mechanoid Invasion®, Rifts®, After the Bomb®, etc.), or to get something for your favorite Game Master. Or perhaps, to get your player group to consider a new game or setting.
Your "Wish List" is vital – The Palladium Surprise Packages are designed to simulate the joy and surprise of the Christmas Season of Giving. To do this, you submit a list of 12-15 Palladium products (or more) FOR EACH Surprise Package you order. This list of 12-15 items for EACH Grab Bag is critical, because you will not know which items we will select to send you. That makes it just like a Christmas gift because it's a surprise. Plus, Santa Kevin, who personally hand-picks every item for every Grab Bag, may toss in something extra like a limited edition print, or color maps, or T-shirt, or issue of The Rifter®, or something else he thinks you'll enjoy.
Autographed books. For those of you who want them (which are most people), available members of the Palladium staff, and any freelancers we can lasso at the time, are happy to autograph each and every book in your Surprise Package. This is the only way many fans, especially those in other countries, can EVER get signed books.
Send us your brief comments. There is a special form and format to fill out for Christmas Surprise Packages, including a place where you can offer your brief comments, suggestions, greetings and salutations.
It only costs $46 plus shipping to get $90-$100+ worth of Palladium products! First-timers are always nervous until they see the great value in their first Surprise Package. A typical Grab Bag has $90-$100 worth of product, sometimes more! Yes, sometimes more. Many people order 2-3. Some order 4-6, and some maniacs order even more! It makes sense, because it is a great way to fill holes in your own collection, treat yourself, get autographs, try new games and settings, and get your gaming pals gifts. PLEASE spread the word about this great offer.
To those of you outside the USA, the X-Mas Surprise Package is a way to get books and circumvent the damn high cost of shipping from the United States. Since you are getting $90-$100 worth of product and only paying $46 plus a small handling charge, shipping via Priority Mail International (required for packages weighing more than four pounds) to most locations in Europe, Canada and many other countries is around $50-$60 US dollars. HOWEVER, because the cost of the product is so low, that's the equivalent of paying retail for the products and only $0-$30 for shipping. A very good deal. Plus you get autographs if you want them! X-Mas Surprise Packages are the way to go for those of you outside the USA. Please take advantage of it to get all those products you've wished you could get except the shipping was too prohibitive. We feel your pain. Game on!
IMPORTANT NOTE: The X-Mas Surprise Package is a Grab Bag. As such, while we always try to send you items from your Wish List, you may NOT get everything you ask for and you are likely to get one or more items NOT on your list, like The Rifter®, or other item(s) we think you should enjoy. PLEASE give us a long Wish List and fill out other questions (favorite Palladium games, would like to try X, and so on) because it helps us to make your Surprise Package special. If you need or want specific items, do NOT use the Surprise Package; place a regular order at full retail to guarantee you get the books you want. Offer ends December 24, 2018.
Please tell everyone about the Christmas Surprise Packages. We want to put smiles on the faces of gamers around the world.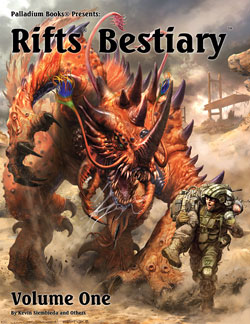 UPDATE: Rifts® Bestiary, Volume One – Ships November
I'm sorry this book is taking longer than we had hoped, but we want to make it truly inspiring with cool monstrous pets, riding animals and alien familiars for players to use and monsters and dangers that inspire Game Masters to build better adventures. We have been working like crazy on this book, and it is coming along great, but it is taking time to get everything just the way we know you want it.
Wayne and Alex are busy editing, Chuck is drawing the beasts, Nick Bradshaw is doing art for a few last minute new monsters, and I have been writing and updating as fast as I can. The new monsters are awesome and some of the updates will make familiar and forgotten creatures feel new again. I'm behind where I wanted to be on this book, but it and Volume Two are going to be something special.
We are all excited by how much new material has been added to the Rifts® Bestiary, Volume One (and Two). Every single creature has extra information and updates, but many are much more expanded and detailed than I had originally imagined I would make them. It has been fun to revisit and expand upon these monsters and animals. These comprehensive rewrites only serve to make two better and more useful books for gamers. And the new beasts? I'm loving them and so will the fans. We know the customer will enjoy and get a lot of use out of these tomes.
The two upcoming Rifts® Bestiary books are great resources for players and G.M.s alike, with creatures that can be used as familiars, pets, riding animals, guard animals, and in some cases, even unlikely allies. Others are slobbering monsters or malicious predators who include humans and D-Bees among their prey. All giving you plenty of spice to add to your characters and adventures. And each comes with a map that shows at a glance exactly where to find these beasts. The Rifts® Bestiary, Volume One ships early November. Volume Two end of November or December.
Monsters and animals of Rifts North America organized in two big, easy to use sourcebooks.
Updated descriptions and information for existing monsters.
Updated and uniform stat blocks.
New predators, exotic riding animals, beasts of burden, alien horrors, giant insects and more.
A map for every creature showing where it is found.
Fully illustrated, much of the art by Charles Walton II, along with Siembieda and many others.
192-224 pages each volume – $26.99 retail – Cat. No. 896 (Volume One) and Cat. No. 897 (Volume Two). In production. Release Date: Early November.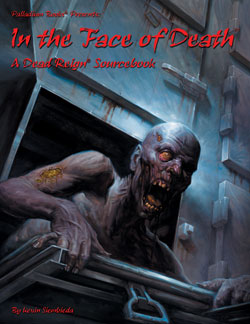 UPDATE: In the Face of Death for Dead Reign®
I spoke to Nick Bradshaw about the art and some ideas for this book and expect to plunge into finishing it as soon as the Bestiary books are done. Cannot wait.
UPDATE: Rifts® Antarctica
Artist John Zeleznik is painting away while author Matthew Clements is making changes and improvements to the manuscript to ensure that Rifts® Antarctica is a truly compelling and exotic land you'll want to explore.
UPDATE: Chaos Earth® Psychic Scream™
I approved the final cover art for Psychic Scream last week, the artist Anthony Moravian has transferred it to masonite and should be painting away. Another book I'm dying to get into your hands as soon as possible.
UPDATE: The Rifter® #83 and #84
As mentioned last week, we are already thinking about and reviewing material for these two issues. The Rifter® #83 should have a Heroes Unlimited™ theme cover by Anthony Moravian, and The Rifter® #84 will have a Rifts® cover by John Zeleznik.
New on DriveThruRPG.com – Rifts® Northern Gun™ One – a Rifts® World Book
New: Rifts® Northern Gun™ One. This fan favorite might be thought of as the big book of giant robots – an in-depth look at Northern Gun, 70+ weapons, 27 robots, NG O.C.C.s, key people and places, and much more.
Recent PDF additions include Mysteries of Magic™ Book One: The Heart of Magic™ with Wizards, their Apprentices, nearly 60 new magic spells and remember, magic and monsters in the Fantasy RPG are easily adapted to Rifts®, Chaos Earth®, HU2 and other settings. Wolfen Empire™ Fantasy sourcebook, the Great Northern Wilderness and Killer Winters, 12 Wolfen Tribes, Wolfen military and society, 15+ creatures, 5 full adventures, 101 adventure ideas, random encounter tables, notable people, places and more. Land of the Damned™ Two: Eternal Torment™ Fantasy sourcebook, 15 different undead, 15 Beasts of Chaos, curses, key places and people, 100+ adventure ideas, and more; Land of the Damned™ One: Chaos Lands™ (Fantasy), 20 monsters, 14 demons, 11 dying races, Random Monster Generator, the Great Rift, cold weather rules, key places, and more than 200 adventure hooks; The Northern Hinterlands™ (Fantasy), Eastern Territory™ (Fantasy), Mount Nimro™ (Fantasy) the Kingdom of Giants, Baalgor Wastelands™ (Fantasy) with 17 monstrous beings and more; The Western Empire™ (Fantasy) with city generation rules, vampires, herbs, poisons, and adventure. Beyond the Supernatural™ RPG, 2nd Edition: A complete game, 14 character classes, 42 "ordinary people" occupations, 100+ psychic abilities, 16 monsters, the Lazlo Agency, world setting and rules. Nightbane® RPG, the core rules for this modern horror setting with elements of the monstrous, demonic and tormented superheroes (the Nightbane). Nightbane® Survival Guide: Everything to know about the Nightbane, new dangers, a complete adventure and more. Nightbane® Between the Shadows™ Sourcebook, the Dreamstream™, the Astral Plane, the sinister Spook Squad, world info, and more. Nightbane® Nightlands™ Sourcebook, secrets of the Nightlords™, the Nightlands, 41 wicked NPC villains, 12 monsters, 12 demons, and more. Nightbane®: Through the Glass Darkly™ presents Fleshsculptor magic, the Mirrormage, Cybermage, the Shadowleague, dangerous brotherhoods, magic artifacts, 50 spells, 3 full adventures, adventure ideas. The Rifter® #77, plus The Rifter® #77FREE Sneak Previews for The Rifter® #80 AND The Rifter® #81, and more.